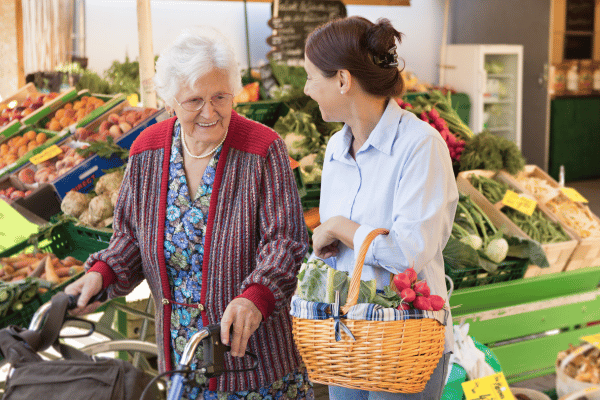 As discussed in our latest post, value-based sales emphasize the value and benefits a product or service provides the customer, rather than just its features and price. 
When it comes to senior living, value-based sales are significant. Seniors and their families are looking for more than just three hots and a cot– they want a community that offers an appealing lifestyle and meets their unique individual needs.
Use these tactics to build solid relationships with your prospects and maximize value-based sales in your senior living community:
Personalized Tours
The meat and potatoes of senior living sales are personalized tours. They allow potential residents and their families to see the grounds and amenities firsthand and get a feel for the community's lifestyle and culture. Tours can be tailored to each prospect's specific needs and interests, so you can highlight the value of your community and demonstrate how it can serve them.
Relationship Building Skills
Such as active listening, empathy, and a solutions-focused mindset are essential to every sales rep's toolkit. Senior living is a people business. It is relationship building—the process of becoming known, liked, and trusted—that allows you to show the value of your community to potential residents and their families.
Educational Seminars
Showcase your community's expertise and value with educational seminars. By hosting seminars on topics relevant to older adults and their families, like nutrition, exercise, or retirement and estate planning, you demonstrate your knowledge and expertise in the field. Educational events establish you as an authority while providing helpful information to your audience. Consider a combination of in-person and online events for maximum reach!
Customer Testimonials
If personalized tours are the meat and potatoes, customer testimonials are the decadent dessert of senior living sales. Nothing establishes credibility and trust, and reassures doubtful prospects like testimonials from satisfied residents and families, highlighting the positive impact your community has had on their lives.
Referral Programs
Another effective way to generate new leads and sales in senior living is through referral programs. Offer incentives to current residents and families to refer friends and family members, and you can tap into their networks and reach potential customers who are already predisposed to your community's value proposition.
Virtual Sales Assistant
Last but not least, consider using a Virtual Sales Assistant to make the most of your community's website traffic. A VSA like Waypoint's Navigator can increase website conversions by over 200% by guiding website visitors into your sales funnel in a way that is comfortable to them, and meets them where they are in the sales journey.
Try Waypoint's Navigator For Free!
Contact us today to learn more about what Waypoint can do for you and your senior living community, or to schedule your free demo!